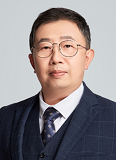 Prof. Xudong Song
Dalian Jiaotong University, China
Speech Title: Intelligent fault diagnosis methods for rail transit bearing based on deep learning and big data
面向深度学习和大数据的轨道交通轴承故障智能诊断方法
Abstract:
Deep learning and big data technology are the most advanced information technologies in the contemporary era. Data-driven machine learning methods have become important methods to discover laws and solve scientific problems. The project aims to improve the accuracy and efficiency of rail transit bearing fault diagnosis, explore the application methods and technologies of deep learning and big data technology in rail transit bearing fault intelligent diagnosis, propose a series of data-driven rail transit bearing fault intelligent diagnosis methods, build bearing fault intelligent diagnosis models in different application scenarios, and solve the problems of inaccurate, untimely and poor adaptability of bearing fault diagnosis, Its solution not only has important theoretical significance for the research of bearing fault diagnosis methods of rail transit, provides theoretical basis and technical reserve for the research of mechanical equipment fault diagnosis methods, but also provides decision support for the safe operation of rail transit transportation. It has important significance and great economic value for bearing fault diagnosis and operation maintenance, and has high industrial application value and wide application prospects.
深度学习和大数据技术是当代最前沿的信息技术,数据驱动的机器学习方法成为发现规律和解决科学问题的重要方法。课题以提高轨道交通轴承故障诊断的准确性和高效性为目标,探索深度学习和大数据技术在轨道交通轴承故障智能诊断的应用方法和技术,提出一系列基于数据驱动的轨道交通轴承故障智能诊断方法,构建了不同应用场景的轴承故障智能诊断模型,解决了轴承故障诊断不精准、不及时和适应性差等问题,它的解决不仅对轨道交通轴承故障诊断方法研究有重要理论意义,为机械设备故障诊断方法研究提供理论依据和技术储备,而且为轨道交通运输作业安全运营提供决策支持,对轴承故障诊断和运营维护具有重要意义和巨大的经济价值,具有较高的行业应用价值和广泛的应用前景。
Biography
Xudong Song is a professor at the computer and communication engineering Institute at the Dalian Jiaotong University in China. He received his Ph.D. in Computer Science from Dalian University of Technology. He was an outstanding young backbone teacher of universities in Liaoning Province, and a national public visiting scholar of Worcester Institute of technology in USA. His research interests include artificial intelligence, big data mining, decision support system, as well as quantum information, etc., and has a deep theoretical foundation and rich scientific research experience. He has published more than 100 papers in refereed journals and international conferences in the above areas, published 10 books, completed more than 40 scientific research projects, authorized 2 national invention patents and 15 software copyrights. He is an expert in degree and postgraduate education evaluation of the Ministry of education of China, an expert scientific research funds and science and technology awards evaluation of the Ministry of education of China, an expert science and technology awards evaluation of Liaoning Province of China.
宋旭东教授,工学博士,毕业于大连理工大学计算机应用技术专业,是辽宁省高校优秀青年骨干教师,美国伍斯特理工学院国家公派访问学者。主要从事人工智能、大数据技术、决策支持系统、量子信息等方面的研究工作,具有深厚的理论基础及较为丰富的科研经验。发表科研学术论文100多篇,出版教材10部,主持或参加过40多项科研项目。研究成果获国家发明专利2项,软件著作权15项,教育部学位与研究生教育评估评审专家,教育部科研基金和科技奖励评审专家,辽宁省科技奖励评审专家。